Founder of Hawkins for Nevada Foundation, Inc. 501 (c) (3) is running for Lieutenant Governor of Nevada, Mr. M. Kameron Hawkins
Why am I running for Lieutenant Governor of Nevada in 2022? The time is right for me to step up and serve you again.
July 4th, 2021 weekend out in front of our State Capital addressing my fellow Nevadan's that support our 2nd Amendment and Freedom of Choice.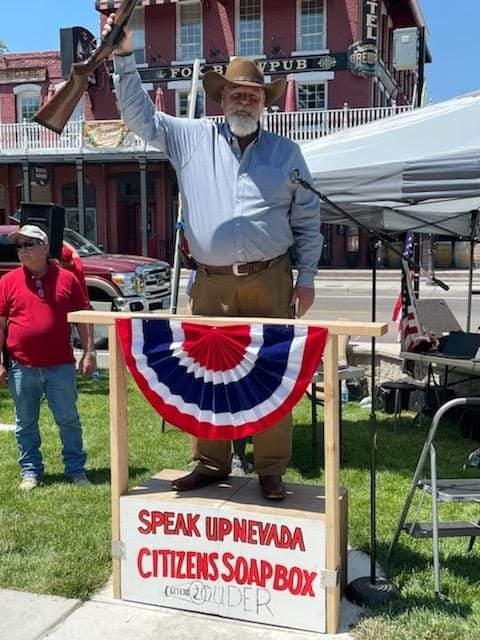 My Platform – Keeping businesses open and never having our Freedom of Choice questioned again…
The main responsibility to Nevadans as the Lieutenant Governor is to increase Economics Development and Tourism in the state of Nevada and help keep businesses open.
Bio M. Kameron Hawkins
Being an American, Old Reagan Republican, and Veteran… 
I was born an American on February 23, 1963, where I was raised as an Old Reagan Republican in the Wild West of Arizona and became a Veteran of the United States Armed Forces serving in the US Navy. (BM1 Hawkins). You could say, I have been living a full life that has afforded me how to live a life full of adventure, a great life of Service over Self and the proud life of being a Veteran of the United States of America.
In 2012, I made the right decision in moving to Nevada, where I feel like I'm home and I fell in love with the people and their lifestyle. Before long I started hosting our former Gun Shows, Golf Classics and Farmer Markets etc. around the state, bringing the communities together that seek the goods and services my vendors provide. When my database grew to 180k+ here in Nevada, I started publishing the Great Basin Highway Magazine back in 2019 (Now known as the Great Basin Magazine – as of May 15th, 2021) fully encompassing the Great Basin area – Historical Preservation, Wildlife and Land Management, Adventure Destination, Tourism, Economics, and Relocation, is the services we provide and support. As the founder and chairman of Hawkins for Nevada Foundation, Inc 501 (c) (3), I travel to all 17 counties in Nevada every quarter supporting those who support others on many levels in business, economics, events, relocation, and Historical Preservation.
On Tuesday, November 8th, 2022, I am asking for your vote to become the next Lieutenant Governor of Nevada. Together, we will enhance our State of Nevada that we call home, to be the leader in Economics and Tourism, showing and leading the way by example for other states to follow.
I would greatly appreciate it if you would visit our Campaign Trail page and support the listed events.
More of Mr. M. Kameron Hawkins bio can be found on LeadersandCandidates.com back when he was the founder. Since running for office he is now a client.